Lozengy or and gules, on a chief sable the sun in splendour or
Original blazon: Lozengy or and gu on a chief sa. the sun in his splendour or.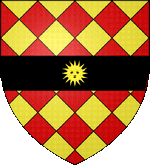 Crest: A cap of maintenance decorated with a plume of ostrich feathers, all ppr.
Another Crest: The sun rising from a cloud ppr.
Supporters: -
Motto: -
Notes:
-
Source: Burke's General Armory (1884)
Ad blocker interference detected!
Wikia is a free-to-use site that makes money from advertising. We have a modified experience for viewers using ad blockers

Wikia is not accessible if you've made further modifications. Remove the custom ad blocker rule(s) and the page will load as expected.